Sri Venkateswara Engineers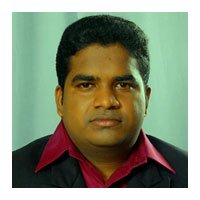 We are sure you will agree that today's business growth in this challenging economic period, wide involvement, challenging decision and team spirit with latest technology is major role to spread over the company.
With such business growth in the pipeline integrating and infrastructure can be nightmare. Sri Venkateswara Engineers is upcoming company with you, to reach your task at cost effective.
SVE has catered for varying needs of business with its product portfolio like 11KV HT breaker Panels, MCC Panels and automation Panels. SVE's offering cost effective solution with minimum hassles.
This profile of SVE will present you with all the details to make a decision to choose SVE for the looking products. To know more details contact us or visit us at www.srivenkateswaraengineers.com or send mail to us at srivenkateswaraengineers@gmail.com
Contact Details:
| | | |
| --- | --- | --- |
| Name | : | Reg. Address:- No. 169/6, Golden Jubliee Flats, South Park Road, Anna Nagar West, Chennai – 600 040 |
| Address: Registered office | : | Factory Address:- Plot No. 1, Tower Line, Tirupathi Kodai Street, Athipet, Ambattur, Chennai – 600 058 |
| Address:Factory | : | Sri Venkateswara Engineers |
| Contact No | : | +91 99409 50054 / 88839 96203 |
| Eamail Id | : | srivenkateswaraengineers@gmail.com |
| Website | : | www.srivenkateswaraengineers.com |
| Year of Incorporation | : | 2007 |
| Profile of Industry | : | Manufacturing of HT & LT Panels, Control & PLC Automation Panels, VFD Sales & Service & AMC, HVAC Systems, Harmonic Filters, APFC Panels, EB Metering Panels, EB to DG Panel, Automatic 3 Phase Changeover Panel, |
Vision
To be a leading market leader in automation solutions and Hydro projects, to grow in the market as a trusted and reliable solution provider.
Mission
By providing highest quality products and services at high commitment and become a trusted partner to our clients.
Values
Trust Worthy
Customer satisfaction
Green solution to society
Reliable supplier
Team Spirit
QualityPolicy
We at Sri Venkateswara Engineers are Committed to achieve the following through The implementation and continual Improvement of quality management system
ISO 9001-2008
Achieve on time delivery of our products.
Enhancing customer satisfactions.
Continual improvement of our products.
Reduction in rework and wastages.?
Product Profile
Distribution Panels – AC and lighting DBs
PCC panels Up to 11KV
PLC Based Automation Panels
AC Drive Panels
APFC Panels
Control Desk Panels
Starter Panels
Outdoor type Panels
Interiors (Partition) and Civil Works
Bottling Machineries - Retrofit Mechanical & Electrical
Automatic 3 Phase Change Over Panel
HVAC SYSTEMS-CHILLER,AHU, PUMP,BMS AND DUCTING
LT & HT Motors, Soft Starter, Drives & Servo System
Authorized Sales & Service Partner for LT & HT
INOVANCE, SCHNEIDER, MITSHUBISHI, YASKAWA & VACON, DANFOSS VFD's
PCC 11KV Panels supplied to Cement Plant (4000A)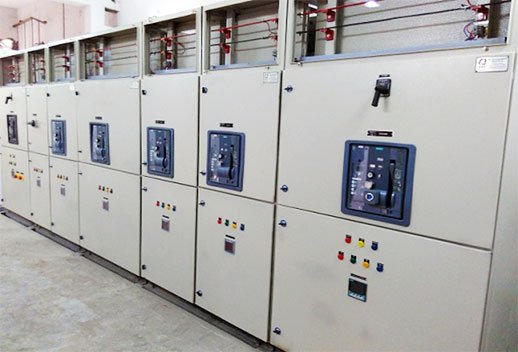 Pump and Bottling Plant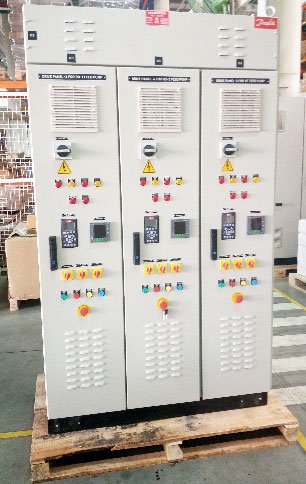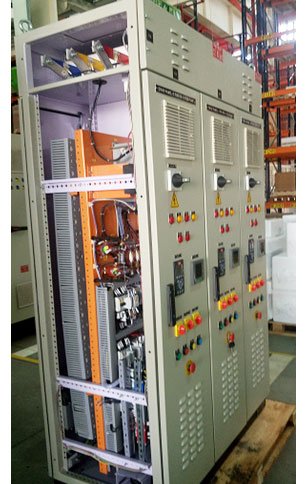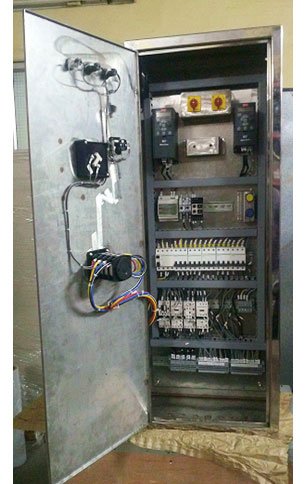 HYUNDAI – 200KW MOTOR & VFD REPALCE AND FIXING- NEW SPINDLE MOTOR & VFD PANEL - EXTRUDER APP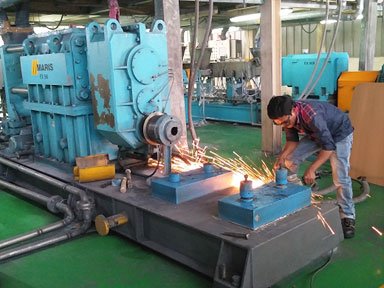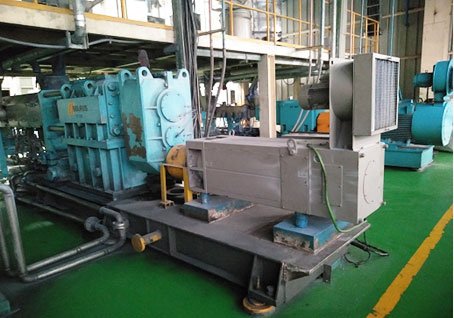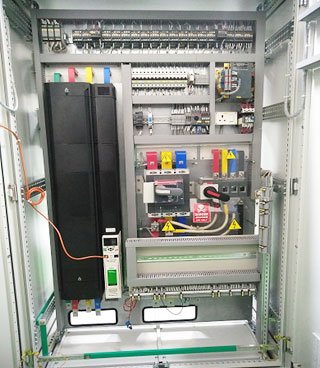 Product System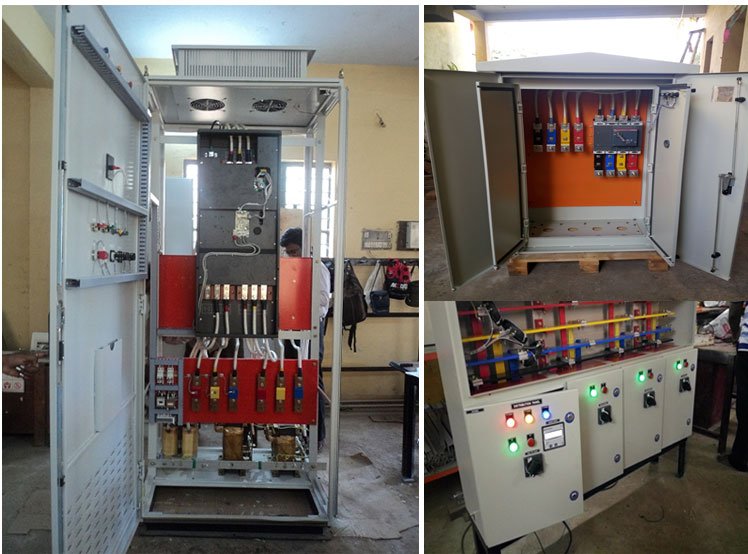 Pharma Industries – MCC & PCC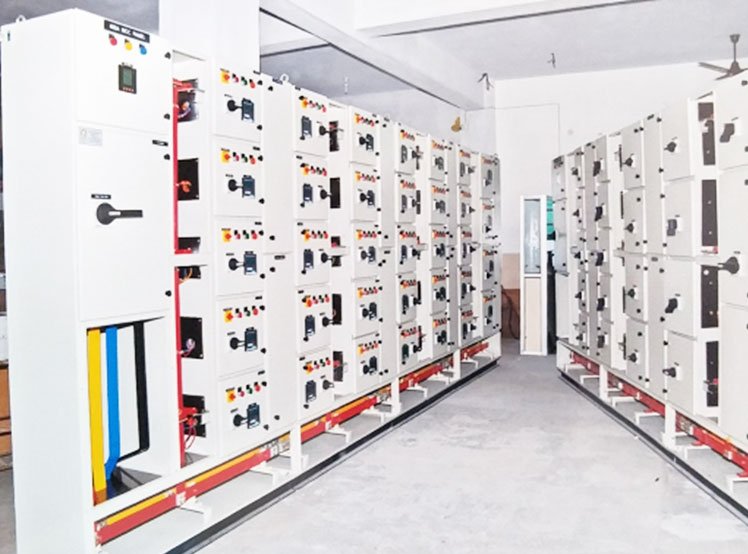 HVAC- Chiller & AHU, Pump Panel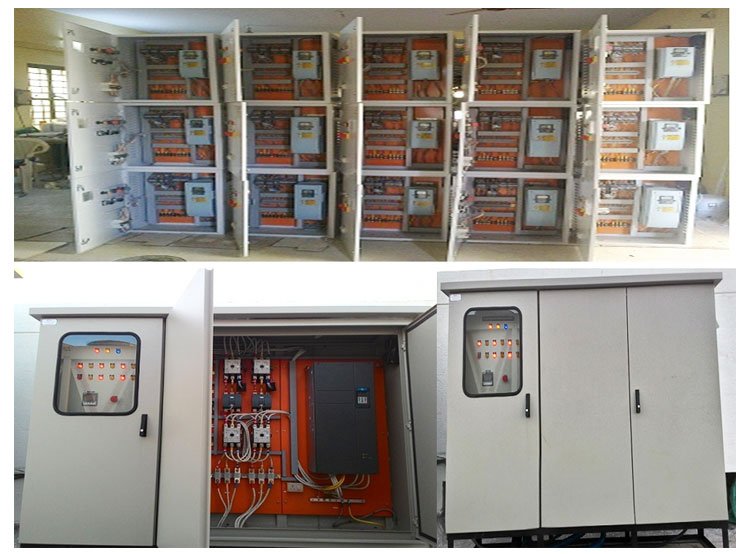 Products and Systems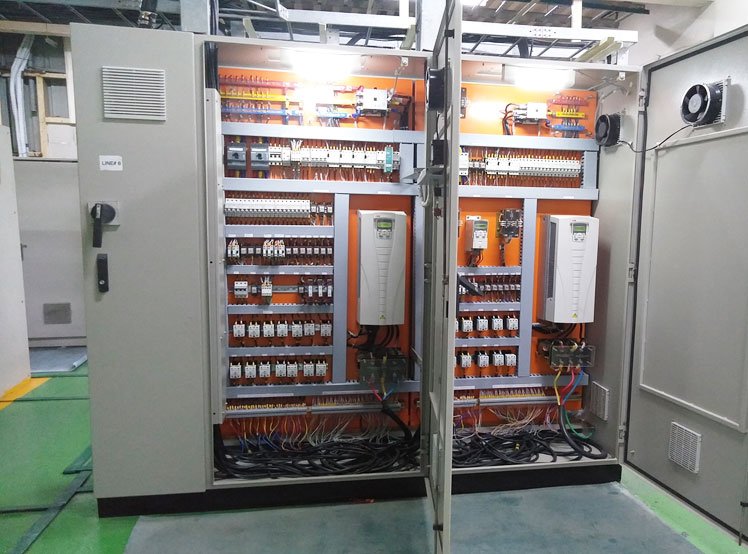 OUR VALUABLE CUSTOMERS
1.Airport Authority of INDIA-Chennai International Airport & Cargo Supply of 280kw,90kW, 75kw, 55kw, and 22kw vfd Panel.
2. Taj Connemara Hotel-AHU & Pump Panel Supply and Erection
3.Southern Railway-Crane Panel Supply- 30kw/22kw/11kw -Place Tambaram-Chennai
4. Chettinad Cemenst & Dhandapani Cements-Trichy
5. JSW Steel Works-CRANE VFD PANEL-690V & 380V-I,II Unit
6. SALEM STEEL PLANT-CRANE, PUMP – SALEM
7. INDIAN AIR FORCE-AVADI
8.Power Plant-Himatsingha(Karnataka), Wartzila(Rameshwaram)
9.ISRO Mahendragiri-Tuticorin, Hatikotta-Nellore
10.Shapporji & Pallonji-Sp Info City-Chennai
11.Hyundai Plastics-Orogodam
12.Chettinad Hospital-Chennai, CMC Hospital-Vellore
13.Trident,The PARK Hotel, DLF, AGS Theatre
14.Trichy Water Board, Kanchipuram Water Board
15.Vijayawada Water Board-Andhra Pradesh
16.GOA-Water Board-GOA
17.SMC Infra Structure-GOA
18.Kone Cranes , Convey Cranes
19.Solara Pharmacheticals Groups (Chennai,Pondicherry & Cuddalore)
20. Chemplast Sanmar-Hosur, Hydro Electrical Systems
21. VOLTAS, JOHNSAN CONTROLS, TRANE, ENMAC, UNIMECH, TECTON, POTHYS, EXPRESS AVENUE, AMERICAN CONSULATE, AGS THeatre…Etc….
Customer Segments
Cement
Power
HVAC-Chiller, Cooling Tower,Ahu, Pump & Bms
Water
PUMP
FAN
Pharmaceutical
Crane
Injection Molding
Textile
OEM (Original Equipment Manufacturers) &
SPM ( Special Purpose Machines)
Manufacturing Facility & Infrastructure
| | | |
| --- | --- | --- |
| Area | : | Unit – I 2700 Sq.Ft |
| | : | Unit – II 2200 Sq.Ft |
| Manufacturing Capacity Panels | : | 75 No's of vertical |
| No. Of Employees | : | 10 No's |
| Total no of Panels Manufacturing In last year | : | 250 No's |
M/s. Sri Venkateswara Engineers
Factory Address:- Plot No. 1, TOWER LINE, TIRUPATHI KODAI ROAD, ATHIPET, AMBATTUR, CHENNAI – 600 058. Mobile: -+ 91 9940950054/+91 88839 96203
Registered Office Address:- No.169/6, GOLDEN JUBLIEE FLATS, SOUTH PARK ROAD, ANNA NAGAR WEST, CHENNAI – 600 040. Mobile: -+ 91 9940950054